PAsCAL Autonomous Bus Line: Conclusions and Learnings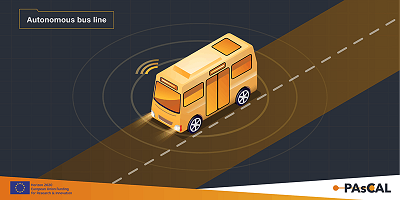 Etelätär Innovation invites you to join the final event of a pilot exploring the acceptance of L4 autonomous vehicles in mixed traffic online and free of charge. The pilot explored both the perception of vehicle passengers as well as co-road users of the vehicle.
We share not only the experience and insight we have gathered of 3 seperate pilot waves over 6 months and involving more than 200 individual participants, but also the key conclusions of our research.
Agenda:
| Time | Topic | Speaker |
| --- | --- | --- |
| 10:00-10:10 | Welcome & Introduction | Friederike L. Kühl, COO at Etelätär Innovation |
| 10:10-10:20 | Pilot Implementation & Set-up | Elena de la Peña, Technical Deputy - Director General at Asociación Española de la Carretera (AEC) |
| 10:20-10:30 | Pilot Results & Lessons Learned | Friederike L. Kühl, COO at Etelätär Innovation |
| 10:30-10:40 | Integration of Autonomous Vehicles into Large Public Transport Networks | Soledad Perez-Galdos Enriquez De Salamanca, Coordinator of Infrastructures and Innovation at Consorcio Regional de Transportes de Madrid (CRTM) |
| 10:40-10:50 | Operation & Commercial Potential of Autonomous Vehicles | Álvaro Andrade Bonet, Head of Innovation at ALSA |
| 10:50-11:00 | Benefits of Autonomous Vehicles for Users & Hosts, Adaptation of Road Infrastructure to CAVs | Miguel Manso Silvan, Professor at Universidad Autónoma de Madrid (UAM) |
| 11:00-11:15 | Open Questions & Answers | Friederike L. Kühl, COO at Etelätär Innovation |
You can register on eventbrite: https://www.eventbrite.it/e/pascal-autonomous-bus-line-pilot-conclusions-and-learnings-tickets-295071545937