Pilot 5: the new inclusive mobility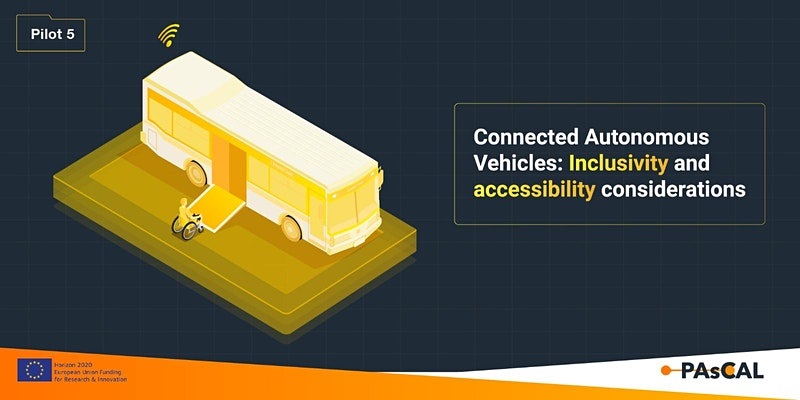 On October 28th, 2021 will be held the PAsCAL event to present the results
A new opportunity from autonomous driving. On Thursday October 28th, will be held the event "Connected Autonomous Vehicles: Inclusivity and accessibility considerations" that will present the results of pilot 5, focused on vulnerable travellers in connected transport environments and aimed at better understanding the inclusiveness and safety needs of vulnerable passengers using CAVs.
This pilot, part of PAsCAL project, explores the mobility patterns and needs of vulnerable travellers, such as the elderly, pregnant women, disabled, travellers with heavy luggage, and parents with a baby stroller, and how can a connected application make their life easier.
The participants consisted of wheelchair users of FLM- Fundación Lesionado Medular, elderly persons of Nadiesolo and persons with temporary mobility constraints (such as carrying heavy luggage, suffering from a temporary leg injury or pregnant women) of Universidad Alfonso X El Sabio - UAX .
Pilot 5 has been concluded and evaluated. Following more than six months of implementing different pilot 5 activities, four distinct activities have ensured that this pilot looks into all possible aspects of the experience of vulnerable travellers in connected transport environments.
The first and main activity consisted of testing a mobile application for step-free transport called Apertum, already been deployed within the public transportation network of Madrid, in Spain. 
Then, a UI/UX testing of the same mobile application took place, involving one group of young participants (17-24 years of age) and one group of elderly participants (60-89 years of age).
A stakeholder interview was conducted in collaboration with AEC, the Spanish Road Association and with the regional Madrid Transport Authority (CRTM- Consorcio Regional de Transportes de Madrid). The organisation highlighted the importance of an intact basic transport infrastructure before adding elements of connectivity or automation to the mix.
Furthermore, four separate Focus Discussion Groups have been organised together with the European Blind Union- EBU italian member, the UICI (Unione Italiana dei Ciechi e degli Ipovedenti), in Rome, Milan, Bologna and Naples. Almost all participants of these discussions were blind or partially sighted persons of various ages, professions, backgrounds and familiarity with CAVs.
With this pilot, new challenges of a more connected transport environment can be addressed, the routing algorithm and the current user experience can be improved using the testers feedback and comments.
It is not rare that users find obstacles while traveling by means of public transport. The authors recommend obliging public transport operators to be obligated to display accessibility information on their transport environment publicly for a higher inclusivity level of the system
It is vital that HMIs which are already onboard of CAVs today are equipped with more options to access or command the HMI using audio and voice activation. Furthermore, vehicles need to communicate with their environment using audio cues like signal sounds to ensure the safety of visually impaired persons in the CAV surroundings.
Additional information about the event:
Title: Connected Autonomous Vehicles: Inclusivity and accessibility considerations
Event place: Online, https://www.eventbrite.com/e/connected-autonomous-vehicles-inclusivity-and-accessibility-considerations-tickets-188392355607
Event time: on October 28th, 2021, 10:00-11:15h CET
Event Program:
| Time | Topic | Speaker & Organisations |
| --- | --- | --- |
| 10:00-10:30 | Apertum Impelementation: Testing with elderly persons and wheelchair users in Madrid, Spain | Friederike Kühl, Etelätär Innovation |
| 10:30-10:45 | Focus Discussion Groups: A forum for the blind and partially sighted across Italy | Francesca Sbianchi, UICI (EBU) |
| 10:45-11:00 | Interviews with local stakeholders & UI/UX testing of the Apertum application | José F. Papí, Etelätär Innovation |
| 11:00-11:15 | Questions and open discussion | ALL |